While the forum was down I started a project that constitutes a first for me, or maybe a couple of firsts. After nearly 10 years back into auto modeling this is the first non hot rod/custom/straightline racing subject I have started. It may also be the first Ferrari I've ever done, unless you count a Merit Lancia-Ferrari D50 when I was a kid. I was fairly conscious about what model to pick for my First Cavallino. I had scored a Hasegawa 250 TR incredibly cheaply on eBay by being essentially the only bidder but, frankly, that was way too nice a kit to cut my teeth on. Then one of the dreaded ESCI/ERTL/AMT 250 Berlinetta SWBs popped up for cheap. It promised to be less intricate and perhaps would look OK with less finesse than the Testa Rossa.
Building iconic cars that are well known to everyone is not what I normally do. I'm a hard-core kit basher and I almost never have built a replica. In fact except for a few months as a child I've actually never built an airplane or ship model or gotten into model railroading. So even this relatively straightforward project is quite a departure for me. I'll try to detail it as best I can within the limits of my abilities, but you can be sure that it won't be up to the standards I've seen for many a museum-quality full-detail Ferrari build (Alex Kustov for example). So clean and simple but with enough detail to be somewhat convincing will be considered an overwhelming success by this humble hobby builder.
The kit isn't quite the horror-show that many led me to believe. It's got plenty of parts and detail to work with. But I can see the deficiencies in the body shape. I tried to re-contour the areas around the grill opening where they meet up with the ends of the fenders so it didn't look quite so flat faced. It seems to have helped a little. Other than that I cut open the hood and the roof vent but forgot to do the same for the rear fender vents. It's small and dark enough in there that hopefully it won't be noticed. I went with a metallic silver color to emphasize the voluptuous contours of this extraordinary design (the paint is Duplpiocolor Silver over dark gray primer). It happens also to be a classic Gran Turismo color for these cars. I made an Italian Tri-colore decal stripes that extend from the grille to the edge of the rear pan. The whole thing is sealed in 4 coats of clear
When I was doing the bodywork and paint I had planned on using the kit prancing horse shield decals that go on the fenders between the leading of the doors and the side vents near the top of the fenders. But it turned out they were pretty vague in detail, printed on clear stock so that the underlying paint affected the final colors, and were visibly undersized. Other than that they were perfect! So I got a nice sharp image of the classic Ferrari shield and made my own version in a slightly larger size and printed them on white decal stock. While I was at it I scanned the instrument dials from the kit decals and made additional copies. And finally I found a properly proportioned actual vintage license plate from Modena, Italy (home of Ferrari) and made front and rear license plate decals
The interior bits have been painted. I used my usual trick of using Testors Acryl acrylic paint which I cross-hatch with my paint brush as it dries. Combined with a light coating of black or dark brown wash it creates a reasonable facsimile of a distressed leather-like surface. The interior surfaces of the roof and cab have also been finished in this color.
The dash panel top on the 1:1's is generally the same black crackle finish as the cam covers, with the lower portion of the dash finished in body color. That's what I did here as well. The foot well assembly is part of the firewall in this kit and mounts to the fender liners and raditor assembly, so I'll wait until chassis assembly time to mount the firewall and dash to the rest of the interior bucket. Here's where I at so far:
I ordered aftermarket parts from Portugal and China tp improve the detail and quality of the basic kit.
I ordered some miniature metal transers from vendor globaltoy on eBay (see
http://www.ebay.com/itm/1-18-1-12-1-24-1-20-1-43-chrome-metal-decals-Ferrari-B-2077-/182741002250?hash=item2a8c36680a
). They were shipped from China and are stick-on metal transfers of the Ferrari Logo and the "cavallino" prancing horse. The sheet includes various sizes for 1/18, 1/12, 1/24, 1/20 and 1/43  scale. They will be used on the rear deck, valve covers and grill center. They took about 2 weeks to get to me in the USA.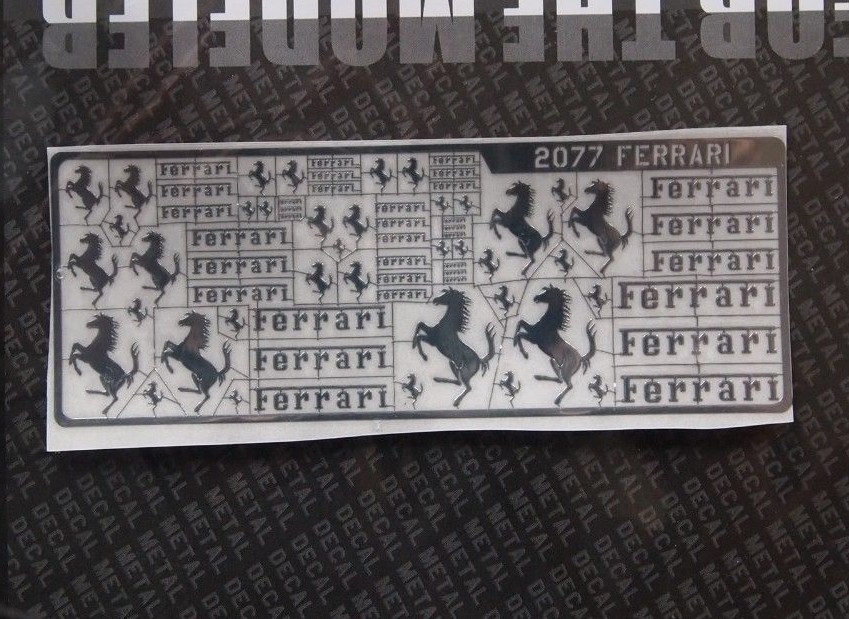 I also ordered some beautiful hand-laced Borrani wire wheels and tires from Fernando Pinto at FPP Modelos. They are drop dead gorgeous and fit the model without any modifications. They can be ordered either through eBay at
http://www.ebay.com/usr/crazycar19
or by contacting him through the FPP Modelos website (
http://fppmodels.wixsite.com/fppmodelos
). They took about 2-3 weeks to get to me.
I also did some minor modifications to the intakes, adding some Detail Master Weber stacks to replace the pitifully wimpy plastic tubes that come in the kit.
The motor and chassis are complete. Below are pics of the motor and the rolling chassis. The wheels aren't glued in place. Despite this kits' less than stellar reputation you can see that the the chassis is quite nicely detailed and that the motor, with a little car, can be made to look quite nice. The tiny metal foil Ferrari stickers on the valve covers help things, as does adding ignition wiring and the aluminum carb stacks. Those FPP Modelo wire wheels don't hurt either!
Left to do are the final assembly of the interior and engine compartment tinwork. The way the kit is structured these assemblies are glued to the chassis so that virtually the entire car is ready for a simple final assembly. What will be left will be foiling, window glass, bumpers, lights and attaching the body to the chassis and interior. This is the critical time where, if the build is going to go south on me, I'll typically find ways to do iy. So careful does it for my first Ferrari build...
Thanx for lookin',
B.

Bernard Kron

I should be working on Models





Number of posts

: 462


Age

: 71


Location

: Seattle, Washington USA


Registration date :

2013-08-18




warra48

Glue Sniffer





Number of posts

: 90


Age

: 71


Location

: Corlette


Registration date :

2012-02-13



Those wheels are simply beautiful. Thanx for your tip on the chrome "cavallino's", I'm enjoying your work as always.

ozmodeler

I should be working on Models





Number of posts

: 262


Age

: 60


Location

: Nowra


Registration date :

2012-04-16




---
Permissions in this forum:
You
cannot
reply to topics in this forum